Welcome to Cutler Sisters the Official Site for Reghan and Kennedy Cutler. Here you will find all the news and up to date information about these young models. For Industry Professionals looking to learn more about these young talents, please click their names above for an overview of information.
NEWS & UPDATES
17 Aug 2013
iLoveToCreate
Reghan had a
fantastic
time working for
iLoveToCreate
recently. Working outdoors, she loved modeling one of their t-shirt crafts and an image from the shoot has surfaced! It's a
fabulous
shot, Reghan is smiling away, and you can tell she's enjoying every minute of having her photo taken. Make sure to check it out in the gallery!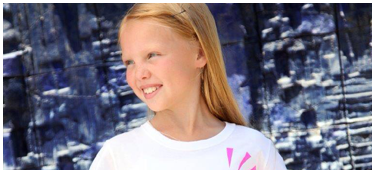 Posted by: Lisa
27 Jul 2013
iLoveToCreate
Earlier this year Kennedy did a really fun shoot for
iLovetoCreate
. It was for a t-shirt kit which allowed a child and their parent to design t-shirts together, and just in time for
Mother's Day
Kennedy's photo was seen in
Walmart
stores. The
best
part of the shoot is that her Mom got to do it with her! She loved sharing the experience with her, and spending the day together.
Two
new images from the shoot have surfaced, one of Kennedy and her Mom getting ready to make the shirts, and another image of them showing them off once they're done.
Thank-you
iLoveToCreate
for such a
wonderful
shoot.
Kennedy has some
booking news
! She'll be shooting for
Liv and Monkey
which is a line by
Jelly the Pug
!
Posted by: Lisa
12 Jul 2013
Happy Birthday!
Today's going to be a very fun day for Kennedy! She's been waiting weeks for this day to arrive, and now that it's finally here, it will be full of excitement and
celebration
, for today is her birthday!
Happy Birthday Kennedy
! I hope you have a wonderful day with your family and friends as you enjoy your
special
day. Being seven is going to bring so many new amazing adventures and opportunities, and I hope it's a spectacular year for you!
Happy Birthday
!

(Thanks Sarah for the banner!)
Posted by: Lisa
01 Jul 2013
iLoveToCreate
Reghan loves
iLoveToCreate
, they always have some of the coolest ideas for their products and she loved her shoot for them earlier this year. Recently, she had the opportunity to do a
second
shoot! She got to shoot on location enjoying the gorgeous California weather, and having lots of fun with the photographer and everyone else who was there for the photoshoot.
Thank-you
to everyone for such a great shoot!
Kennedy also has some
booking news
! She just shot the
spring 2014
line for
Jelly the Pug
with
Natalie Warr
!
On a side note, the technical difficulty with viewing pictures in the gallery has been fixed.
Posted by: Lisa