Welcome to Cutler Sisters the Official Site for Reghan and Kennedy Cutler. Here you will find all the news and up to date information about these young models. For Industry Professionals looking to learn more about these young talents, please click their names above for an overview of information.
NEWS & UPDATES
02 Jun 2012
Ballerini Cooley Studios
Where does the time go? It seems like just yesterday Reghan was working with the wonderful
Ballerini Cooley Studios
as they did her headshots! She did a
fantastic
in studio shoot which you've all enjoyed seeing in the gallery, and she did a
second
set of photos that day outside! The images are so
sweet
as Reghan posed for the camera, flowers in hand and smiling away. Her hobbies and interests shine right through in this shoot as she got to do shots with a guitar on her back, and also in a baseball uniform! Reghan
loves
music and playing her guitar, one of her favorite activities! She definitely has a sporty side as she loves baseball, karate, soccer, and more, making the baseball shot one of my favorites from the shoot, her personality
radiates
through.
Thank-you
to the wonderful team at
Ballerini Cooley Studios
for such
fabulous
images of Reghan, she enjoyed each and every minute of the photoshoot!



Posted by: Lisa
30 Apr 2012
Kennedy
2012 has been great for Kennedy so far! A booking for
Walmart
, fun sports activities and fun days by the pool...life doesn't get much better than that! She's been busy auditioning and having tons of fun enjoying the beautiful sunny LA weather, so many fun and
exciting
activities to do! One of those happens to be going outside and taking pictures! Kennedy loves getting her photo taken and she has had many fun chances to put on her favorite outfits, pick some awesome locations and do her own photoshoots. Laughing, smiling, being serious...Kennedy rocks each and every shot and
fabulous
new photos have just been added to the gallery. There are so many favorites it's hard to pick just one, but I absolutely love the ones of her in her peace hoodie, and the one of her on the yellow slide is
gorgeous
! Make sure to take a look in the gallery, there are so many
fantastic
new photos to check out!


Posted by: Lisa
13 Apr 2012
Reghan
Reghan is absolutely loving 2012! She just had a
fantastic
8th Birthday, and has been busy auditioning and working on her guitar skills. She has such a love of music and playing the guitar is one of her favorite things to do. She also enjoys when its time to bring out the camera. It is so much fun getting to do different poses, smiling and rockin a variety of different outfits. The end result is
gorgeous
new photos for her portfolio, and we have several
fantastic
new photos of Reghan in the gallery! Her smile just radiates off each photo, and I especially love the image of her in the green shirt leaning in towards the camera, such a sweet shot! Reghan's serious images are
fabulous
, the image of her in the vest staring straight into the camera is absolutely
stunning
. There are so many
amazing
shots to talk about, but I know you are all anxious to go see them for yourselves, have fun taking in all the
awesomeness
of Reghan's new images!



Posted by: Lisa
31 Mar 2012
Happy Birthday Reghan!!
The big day is here! The one Reghan has anxiously been waiting for, checking the calendar daily for, and now it is time to
celebrate
as Reghan is turning 8 today!
Happy Birthday Reghan
! I hope you have a
fabulous
day with your family and friends, getting to do all kinds of the exciting activities you love to do. You have so many
fantastic
memories from being 7, and are going to make many more wonderful ones turning 8! Its going to be a year filled with lots of fun and laughter, you're going to enjoy it.
Happy Birthday Reghan
!!!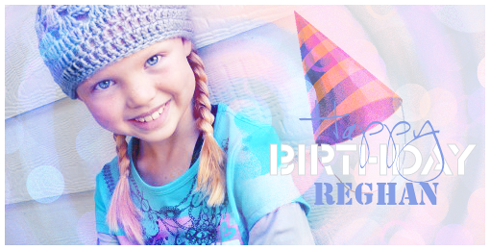 (Thanks Jay for the banner!)

Posted by: Lisa
<< Previous 1 2 3 4 5 6 7 8 9 10 11 12 Next >>