Welcome to Cutler Sisters the Official Site for Reghan and Kennedy Cutler. Here you will find all the news and up to date information about these young models. For Industry Professionals looking to learn more about these young talents, please click their names above for an overview of information.
NEWS & UPDATES
13 Aug 2012
Reghan
Reghan has been having a
fabulous
summer, sleeping in, trips to the beach, swimming, auditions, playing with friends...the list goes on and on! The camera has been out, capturing many of her
summer memories
and also for taking updated photos for her
portfolio
. Such
gorgeous
new photos, and I especially love the image of her with her hair pulled back and rockin her blue peace patterned shirt. How
stunning
is the picture where she's got her head turned and staring right into the camera, Reghan was full of smiles while taking these pictures, she loves posing for the camera. She hopes everyone is having a
fantastic
summer so far and cannot wait until it's back to school soon!



Posted by: Lisa
12 Jul 2012
Happy Birthday Kennedy!
As the sun rises over the west coast, Kennedy will be waking up anxious to start the day ahead,
celebrate
and enjoy her first official day as a six year old! Today is her
sixth birthday
,
Happy Birthday Kennedy
! Family, friends, birthday parties, cake, presents and all kinds of exciting activities, she's going to have a
blast
celebrating! Kennedy, I hope you have a
wonderful
birthday filled with tons of fun and excitement. Enjoy all the special activities of the day and make sure to make a big wish when you blow out the candles, I hope it comes true! You're going to love being six, it's going to be
awesome
!
Happy Birthday
!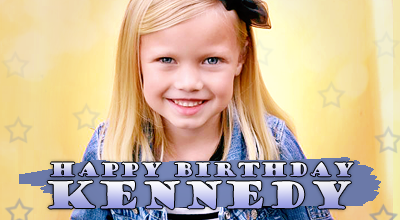 (Thanks Sarah for the banner!)

Posted by: Lisa
07 Jul 2012
Snapshots
Kennedy is enjoying her summer vacation, days at the beach, playing in the park, or at home with her dolls and enjoying all of the fun summer treats! She's been busy auditioning and loves getting to travel into LA, so much to see and do! Some
fabulous
snapshots of Kennedy have just been added to the gallery from not too long ago. I love her serious poses as she uses the brick wall for a backdrop, and her smile just
radiates
off the photo of her leaning against the fence. Such fun images! Kennedy is busy counting down the days now until her
birthday
, just a few more left and it's time for fun with family and friends, and a birthday party with cake and presents to
celebrate
, she can't wait!



Posted by: Lisa
02 Jun 2012
Ballerini Cooley Studios
Where does the time go? It seems like just yesterday Reghan was working with the wonderful
Ballerini Cooley Studios
as they did her headshots! She did a
fantastic
in studio shoot which you've all enjoyed seeing in the gallery, and she did a
second
set of photos that day outside! The images are so
sweet
as Reghan posed for the camera, flowers in hand and smiling away. Her hobbies and interests shine right through in this shoot as she got to do shots with a guitar on her back, and also in a baseball uniform! Reghan
loves
music and playing her guitar, one of her favorite activities! She definitely has a sporty side as she loves baseball, karate, soccer, and more, making the baseball shot one of my favorites from the shoot, her personality
radiates
through.
Thank-you
to the wonderful team at
Ballerini Cooley Studios
for such
fabulous
images of Reghan, she enjoyed each and every minute of the photoshoot!



Posted by: Lisa
<< Previous 1 2 3 4 5 6 7 8 9 10 11 12 Next >>